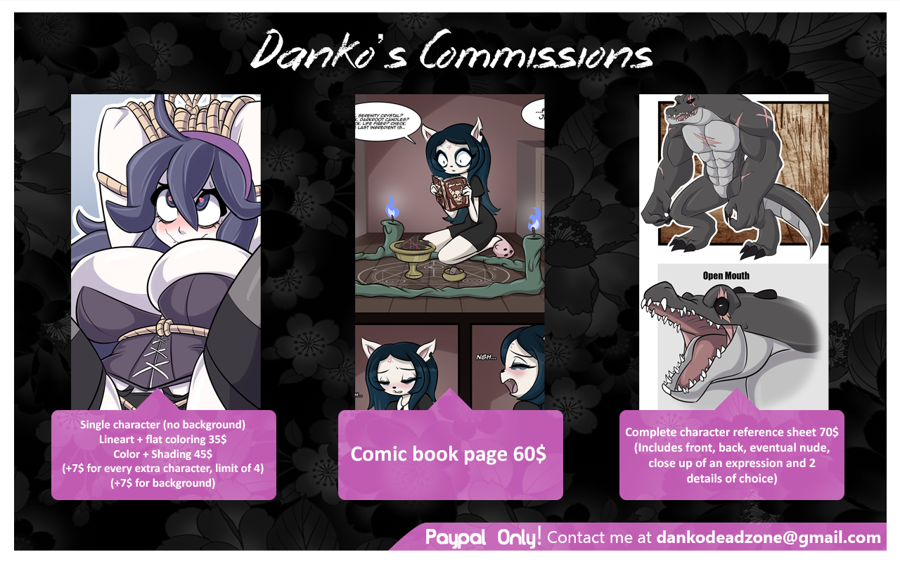 (Click here for bigger version of the price list)
For additional informations contact me at dankodeadzone@gmail.com
Prices tend to be the same even if the character is not a full figure.
I usually use a flat cartoony style but i also give the option for a more complex shading (for 45$).
General Rules:
- Female characters take priority
- No male centric (unless it's a character ref sheet or a Trap)
- Fetishes are on case by case review
- I accept shortstack but characters must not look like children.
- I'm not part of the Brony community anymore but i still take pony related commissions.
- Depending on how complex the commission is it usually takes me around 2 or 3 days to finish a picture.
- I usually make available 5 slots each time i open commissions but they can be reduced to 3 depending how busy i      am during that month.
Fetishes i absolutely won't do:
- Dangerously Underage porn (characters must be at least 12 years old.)
- Pregnant porn
- Inflation (cum inflation is the only exception)
- Guro
- Vore
- Scat/Watersports
- Diapers/Ageplay
(Fetishes tend to also be taken on a case by case scenario, if what you want is not in this list but i don't feel comfortable about drawing it i won't do it)

That's it. Have fun.